Clan Macfie Crest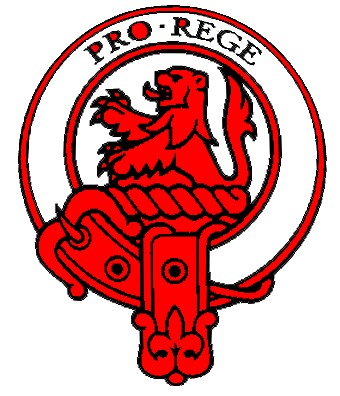 Clan Macfie Motto: "Pro Rege" ("For The King")
Our Badge (Plant): Scots Pine (Giuthas), Darag (Oak) or Dearca Fithich (Crowberry)
---
The Clan Macfie Tartan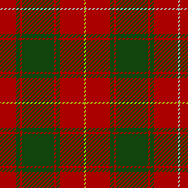 The above red and green Clan Macfie Tartan was recorded in the Books of the Court of the Lord Lyon on 29th August 1991. Thread count for the tartan is: 2 white/yellow; 24 red; 4 green; 2 red; 32 green
Other Macfie tartans have been registered with The Scottish Tartans Society.
---
THE ARMS OF THE CLAN COMMANDER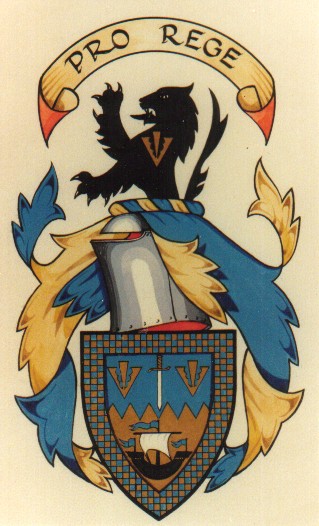 The Arms of Clan Commander A. C. (Sandy) McPhie of Townsville, Q'ld, Australia, inherited undifferenced from his late father Hector Kitchener McPhie of Toowoomba, Q'ld, Australia on 25th September 1985.
Per fess indented Azure and Or, in chief a sword Argent point downwards, hilted and pommelled of the second, between two pheons also points downwards of the last, in base a lymphad Sable under sail of the third and flagged of the first, within a bordure chequy Or and Azure for difference. Above the shield is placed an Helmet befitting his degree, with a Mantling Azure doubled Or, and on a Wreath of the liveries is set for Crest a demi-lion rampant Sable charged with a pheon point downwards Or, and in an Escrol over the same this Motto "PRO REGE".
---
Clan Commander Sandy McPhie at the Macfie Cairn in front of Dun Eibhinn on Colonsay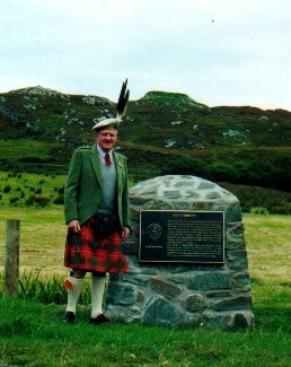 DUN EIBHINN
The detached rocky knoll situated on the skyline directly in front of the viewer is the site of Dun Eibhinn (Dun Eivan). This dun, or fort, is believed to have been built by the High King Gillee Adamnan as a royal residence in the early 11th century. It was a seat of Viking power in the Western Isles and occupied by descendants of Gille Adamnan, including Somerled and his grandson Donald, progenitor of Clan Donald. The fort came into Clan Macfie possession in the early part of the 13th century.
The Macfie or MacDuffie Chiefs were Keepers of the Records for the Lords of the Isles and the Clan provided many of the Priors for the Priory on Oronsay. Malcolm, last Chief of Clan Macfie, moved from Dun Eibhinn in the early 17th century and the fort fell into disuse from that time.
---
Wording on the Macfie Standing Stone, Colonsay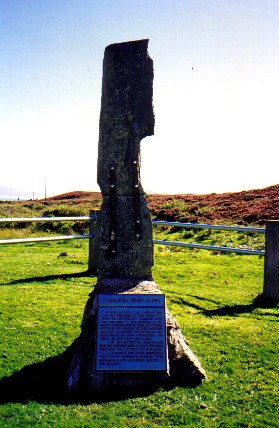 CARRAGH MHIC A PHI
IN 1623 MALCOLM, LAST CHIEF OF OUR CLAN WAS MURDERED AT THIS STONE BY A RENEGADE MACDONALD. DAMAGED OVER THE CENTURIES IT WAS REPAIRED BY ULF MACFIE HAGMAN, SWEDEN, CHARLES MACPHEE, AUSTRALIA AND DUNCAN MACPHEE, SCOTLAND. THE PLOT OF GROUND WAS GIVEN TO THE CLAN MACFIE BY LORD STRATHCONA AND FENCED BY GIFTS FROM CLAN FOLK.
ON 10TH MAY 1977 ULF HAGMAN AND DR. EARLE MACPHEE, CANADA, A CLAN HISTORIAN, DEDICATED THE MEMORIAL TO OUR CLAN. COLONSAY MEN HUGH MCDOUGALL, ANGUS CLARK, DUNCAN MCDOUGALL, PETER MACALLISTER, DION ALEXANDER ASSISTED IN THE PROJECT.